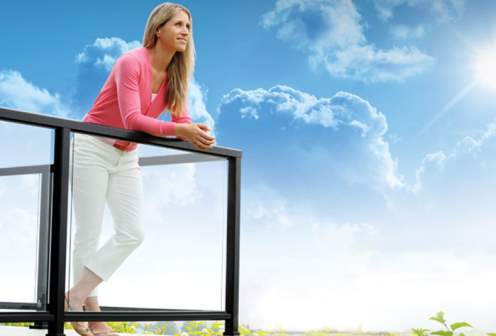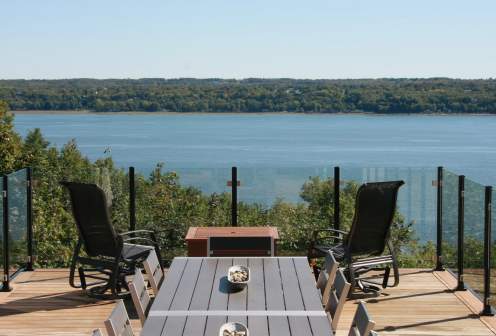 Welcome to the Rampe et Moustiquaire website!
In Mirabel, Saint-Sauveur, Saint-Donat and throughout the Laurentians, Rampe et Moustiquaire sells and installs guardrails, staircases, privacy walls (aluminum and/or glass) as well as aluminum railings for galleries, gazebos, balconies, etc. We also sell and install aluminum or glass fences of different styles, including pool safety fences. Our team installs the high-end products of the manufacturer Déco-Rampe.
For optimal comfort, we install custom screens on your verandas, balconies, gazebos, pergolas or spa shelters, as well as custom screen windows with folding polymer panels.
Manufacturer's patented installation system
The manufacturer Déco-Rampe has patented its assembly parts, the components that allow us to perfectly secure the sections to the poles, and then anchor the poles to the ground in an extremely solid way, which guarantees the aesthetics and the great robustness of the assembly. Locking screws are used for optimal tightening of the entire structure.
With this rigorous and professional installation method, you are assured that your fence, guardrails, balcony and gazebo will be secure and durable, in addition to looking sharp!
Guaranteed products
All products we sell and install (such as railings, window screens with folding polymer panels and other types of screens) are guaranteed by the manufacturer against any manufacturing defects. A 12-month warranty is also available upon installation.
Quality first
Mindful of the quality of our installation services, we travel at your convenience to proceed with the measuring process. Our personalized service as well as our custom-made products, combined with the quality of our installation guarantees impeccable results. Your satisfaction is our priority!
Contact us for a free estimate!
Contact the Rampe and Moustiquaire team at 514-261-1384 for more information on our products and services.
Our team travels to Mirabel, Saint-Sauveur, Saint-Donat and to all other cities in the Laurentians region for a professional installation.